OUR ACADEMY
MASTERS IN COSMETIC SURGERY

OVERVIEW:
The Global Academy of Cosmetic Surgery is an educational institution that was created in 2012, all its curricula, plans and methods of study are consider the best in the private practice, they have an official certification of Studies issued by the Ministry of Education in the state of Veracruz in Mexico, this programs are in the Specialty Aesthetics and Longevity and the Masters in Aesthetic Surgery.

We are the only option in private medical graduate with Masters in Cosmetic Surgery official recognized by Instituto de Estudios Superiores en Medicina (IESM), American Academy of Cosmetic Surgery (AACS) and Ministry of Education in Mexico and Latin America, we perform actions with the highest level of education possible, because we have the best teachers of international stature, who share their experiences with each one of our classes, but especially in our workshops, which are part of our vocational training, where students perform and refine surgical techniques on cadavers, in an environment similar to that to be found in an operating room, but especially , with the guidance and expertise of the best teachers Aesthetic today..........read more

FOR BROCHURE: (click here)




PREREQUISITES: (click here)
OBJECTIVES CURRICULUM:
Forming students who are able to apply techniques and methods for surgical correction aesthetic results through performance as an oncologist, gynecologist, general surgeon and plastic surgeons, in order to provide therapeutic benefits in post mastectomy patients with physical consequences of a disease or treatment prior, as well as requiring cosmetic surgery, facilitating their reintegration into society and to train the students for conducting health research.

GRADUATE PROFILE:
KNOWLEDGE:
- Diagnosis and aesthetic treatment
- Surgical Troubleshooting effective, efficient and economical
- Implementation of corrective cosmetic techniques
- Post mastectomy aesthetic correction
- Application of resources for prevention, diagnosis and rehabilitation in the care of patients with critical sense.
- Proper handling of internal medicine in gynecology patients treated
- Critical analysis and research of neuroendocrine function and physiological
SKILLS:
- Development of scientific thinking for research on aesthetic treatments.
- Integrate knowledge in other disciplines.
- The development of diagnostic reasoning for decision making.
- Acquisition of skills in performing surgical techniques for breast surgery, plastic, cosmetic and reconstructive.
ATTITUDES TO:
- Working in multidisciplinary teams
- Development of ethical sense
- Commitment to social welfare
- Sensitivity, solidarity and service attitude
- Respect for the patient
SEMESTERS DETAILS (detailed overview):
1) FIRST SEMESTER (detailed description)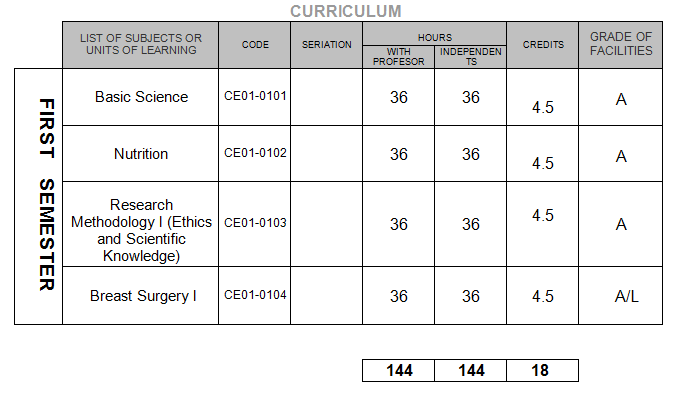 2) SECOND SEMESTER (detailed description)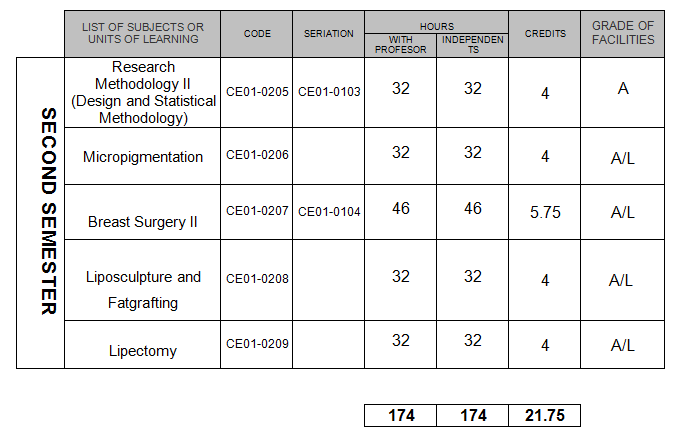 3) THIRD SEMESTER (detailed description)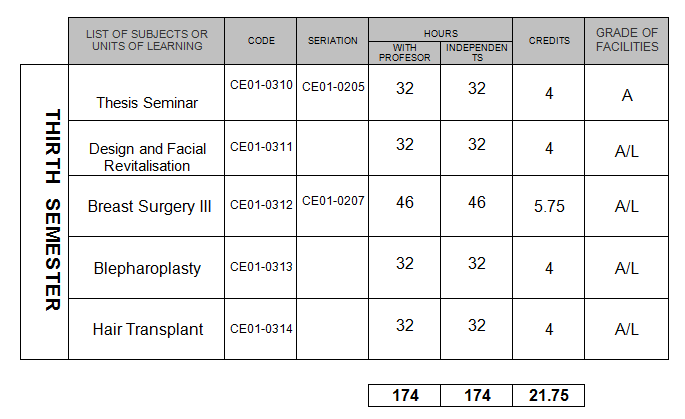 4) FOURTH SEMESTER (detailed description)